To build this bed, I looked at the farmhouse bed plans on
Knock Off Wood
. I modified the measurements to build my daybed. I drew out my plans to make my own list of materials.
Then, I went and bought the wood. The hardest part about buying wood is trying to find the straightest pieces. It took a while rummaging through the piles of wood to find decent pieces. I am sure the employees thought I looked funny, but I didn't care. When I came home, I laid out all the pieces of wood and started making my cuts. Here are my wood cut dimensions.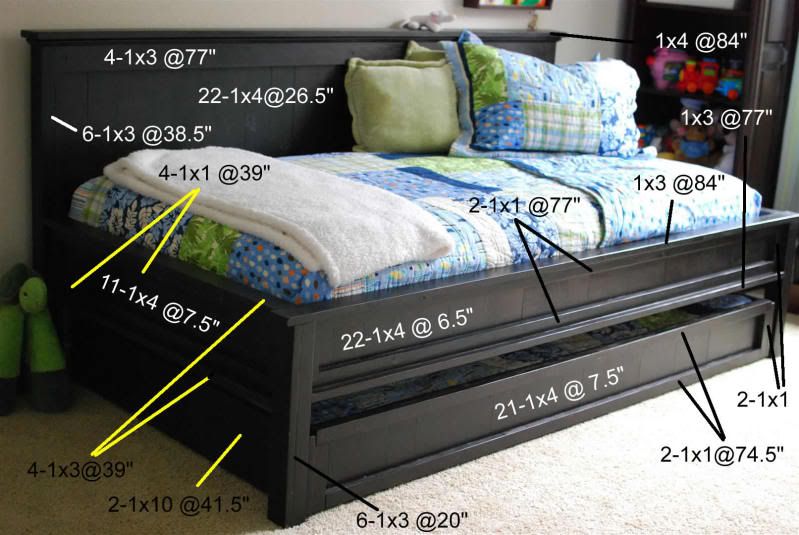 I would like to warn you about the height of the bed. Since this bed is for my 2 year old, I wanted it a little lower than normal. To get my mattress to fit under the daybed, I had to buy a 6" mattress for the trundle. The top mattress which has a pillow top, measuring 8.5" in thickness did not fit under the bed in the trundle. Therefore, should you want a thicker mattress, increase the height of the foot board to accommodate this, perhaps adding another 2.5 inches. If you do that, remember to increase the headboard legs as well.
Then I started to assemble the headboard. I laid the runners on the floor and started laying the panel pieces on top. I put the pretty side facing down so that I could nail from behind. I used some pieces on the edges to line up the wood to make it straight. If my pictures are not self-explanatory enough, Knock Off Wood does a much better job at showing you how to lay out the wood.
Don't forget to glue the boards down before you nail it into place. Glue is what actually keeps the boards staying together.
I put the bed together allowing me to drill all the necessary holes for final assembly.
I stained the bed with 2 coats of a rich espresso finish and applied 2 coats of varnish with light sanding in between. Here is what I used.